Man Charged With DUI After Accident With Tri-Rail Train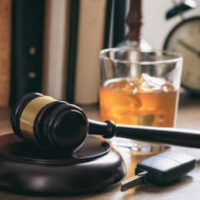 A man narrowly escaped serious injury on the night of December 28, 2019, when he claimed his GPS led him onto a portion of railroad tracks, only for his car to be sideswiped by a Tri-Rail train as he dozed. At first he denied being on the tracks at all, but eventually was arrested and charged with DUI after he confessed to law enforcement. Driving under the influence is not a joke, and in many cases can put a serious damper on your post-conviction plans. You need an experienced attorney to help defend your rights.
Statistics Show Grim Trends
Driving under the influence is one of the crimes that Florida prosecutors take most seriously, because of the potential danger it can pose to the public at large. Statistics from the Florida Highway Safety & Motor Vehicles Department (FLHSMV) estimate approximately 5,125 alcohol-related auto accidents in 2017 (the most recent available data), with around 45 percent of those accidents resulting in injury or death. A notable minority of these casualties were not even in vehicles at the time of the accident – pedestrians, cyclists and others nearby were affected as well.
Because of this potential danger inherent in drinking and driving, even first offenses can be dealt with quite harshly, which can be a real shock to those facing the charge when never having been in trouble before. In Florida, a first offense results in a fine of up to $1,000, plus a driver's license suspension of at least 180 days (6 months), but possibly as long as 1 year. In addition, it is possible that a first-time offender might be ordered to equip an ignition interlock device (IID) on their vehicle for up to 6 continuous months – though if the person's blood alcohol content was at least .15 at the time of the offense, they must equip the device.
DUI Is Serious Business
Despite the serious nature of driving under the influence, too many people are charged and treat it as though it is a minor inconvenience, without knowing that a DUI conviction causes significant problems for the future. In Florida, a conviction for driving under the influence can not only lead to fines, jail time and license suspension, but also prevent you from renting an apartment, opening a new bank account, or getting a job. Employers in particular are understandably leery of trusting someone with a DUI on their record.
That said, giving up hope and simply accepting your fate is never a good option, especially for a first offense. It is less common than in other states, but first offenders in particular may be eligible for pretrial diversion or other reeducation opportunities instead of jail time, especially if there was no injury or fatality. Either way, you need an experienced attorney on your side who is able to accurately assess your case before moving forward.
Contact A West Palm Beach DUI Attorney
While the fate of the young man sideswiped by a commuter train is still up to the courts, yours is in your hands. The West Palm Beach DUI attorneys at the firm of Perlet, Shiner, Melchiorre & Walsh, P.A. can offer dedicated and compassionate representation to you while you try to navigate this drawn-out legal process. Contact our office today to speak to an attorney.
Resource:
palmbeachpost.com/news/20191231/man-charged-with-dui-after-collision-with-tri-rail-train-in-west-palm