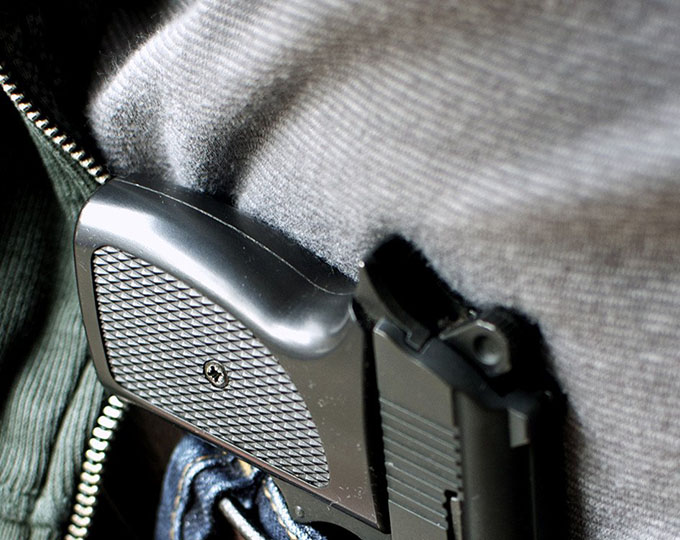 West Palm Beach Weapon Charge Lawyer
Our West Palm Beach Criminal Defense Lawyers Can Help
If you or a loved one has been arrested on a weapons charge, retaining the services of our West Palm Beach weapon charge lawyers at Perlet & Shiner, P.A. will protect the rights of the accused and provide a better chance for reduced charges or a reduced sentence.
If you are arrested for illegally possessing a firearm, you may be charged with a misdemeanor or a felony, depending on circumstances. A conviction for weapons charges in South Florida can have severe penalties. You will have to pay a fine and could face jail or prison time. If you have been arrested on a weapons charge, we can begin protecting your legal rights as quickly as possible.
To schedule a free initial consultation, call 561-721-0552.
Understanding the Possible Penalties
A person who has been convicted of a felony is not allowed to own a firearm in the state of Florida. If the accused has a felony conviction on his or her criminal record, and is later arrested for possession of a firearm, he or she will face a minimum prison sentence of three years, if convicted of the charge.
Our legal team knows the law and can use that knowledge to prepare the best possible defense for you. We will investigate your case and learn what evidence the prosecution has. We will also negotiate on your behalf for the best possible result, and if needed, prepare a strong defense to use at trial. State law provides minimum mandatory sentences if a firearm was used during the commission of a crime in the state of Florida.
The possible sentences include:
Term of 10 years for illegal possession of a firearm
Term of 20 years for illegal discharge of a firearm
Term of life in prison if a person is wounded or injured by a firearm
Begin

Your Defense Now
The sooner you contact our firm, the sooner we can begin building your defense! Call us at 561-721-0552 or fill out the form below to speak to one of our team members.
Strong Defense

You Can Rely On
If you are facing criminal charges, do not put your defense in the hands of just any attorney. Turn to an aggressive team who will do whatever it takes to ensure your rights and future are protected.
Why Hire Our Firm
Perlet & Shiner, P.A.: Providing High-Quality Legal Representation
These are the minimum sentences that can be imposed. A judge can choose to impose a longer sentence, up to the maximum allowed for each charge. Sentences for weapons charges are not allowed to be suspended or deferred. Our West Palm Beach criminal defense attorneys are available to protect your rights and your future, by providing you with the best legal representation possible.
Give us a call today to learn more about how we can protect your rights.