Florida Prescription Drug Abuse Charges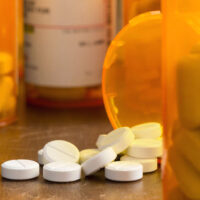 Florida has an unfortunate negative history as a "pill mill," with large swaths of south Florida playing host to "pain clinics" that would simply write prescriptions for pain pills without any kind of oversight. While reforms in 2011 effectively curtailed much of this type of trade, many who had become used to abusing these drugs turned to harder street drugs, but many simply turn to getting prescriptions through other means. If you have been charged with prescription drug abuse, you should treat it as seriously as any other drug crime, and act accordingly.
Hard To Get By Fraud
Normally, if your doctor either provides you with a controlled substance or writes you a prescription for a controlled substance such as Xanax or Norco, it is understood to be a legitimate prescription, given to you to help treat a legitimate medical problem. However, Florida law makes it explicit by stating that this situation is the only way that a person may lawfully be in possession of a controlled substance. Anyone who obtains a controlled substance in any other way may be guilty of a third degree felony.
The potential for additional third-degree felony charges exists if you try and resort to inappropriate means to obtain a prescription – for example, so-called "doctor shopping" for prescriptions, or obtaining prescription by fraud, are both crimes in Florida. Upon reform of the "pill mill" system in 2011, Florida's prosecution of drug crimes and policing of valid uses of controlled substances have veered from permissive to strict, so there are multiple laws on the books to try and regulate any potentially underhanded conduct.
Defenses Exist
Prescription drug abuse crimes are prosecuted quite severely in Florida, with mandatory minimum sentences in force for possession and trafficking crimes. However, the state is not a monolith; defenses do exist to a charge of prescription drug possession, and if you are able to demonstrate that you have an addiction or dependency problem, you may be able to seek diversion out of the prison system and into treatment. Given the way the relevant statute is worded, it is considered an affirmative defense (a fact or set of facts that eliminates any guilt, if true) if you are able to show that you had a prescription for any controlled substance you are caught with.
Addiction is not a get-out-of-jail free card, especially not for someone who has offended more than once. However, with a dedicated attorney on your side, you can be sure that your rights are protected in court, and you are not simply pushed into accepting a sentence that you may not deserve. Regardless of the reasons behind your arrest, if you are abusing prescription drugs, you may have a chance to enter treatment, so as to avoid being in this situation again, but you cannot do it alone.
Contact A West Palm Beach Prescription Drug Abuse Attorney
Most people who abuse prescription drugs are not enjoying being in that position, and being arrested and charged can be a serious crisis. If this has happened to you, know that you do not have to suffer alone – you need compassionate and understanding representation to help get you through the legal process. The West Palm Beach drug crimes attorneys at the firm of Perlet, Shiner, Melchiorre & Walsh, P.A. are ready and willing to try and assist you with your case. Call us today to speak to an attorney.
Resource:
apnews.com/0ced46b203864d8fa6b8fda6bd97b60e
https://www.palmbeachdefense.com/palm-beach-county-cracks-down-on-drug-recovery-industry-fraud/