Domestic Violence & Firearms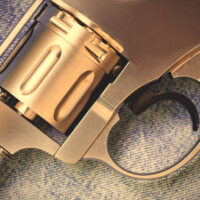 One of the most hotly contested issues surrounding crimes of domestic violence is the fact that by both Florida and federal law, anyone with a domestic violence injunction (DVI) is required to surrender all their firearms and ammunition to law enforcement. The Second Amendment to the U.S. Constitution guarantees the right to keep and bear arms – but there is no right granted by U.S. law that is absolute. If you are involved in a domestic dispute and your alleged victim obtains a DVI against you, surrender is required.
DVI Means No Firearms
Not every domestic violence case is the same, but law enforcement must treat them similarly. Domestic violence is taken very seriously in Florida, seen as a crime against the vulnerable, and there can be both short and long-term consequences of being charged, even if you are not convicted. One of the most immediate is the possibility of a DVI being granted against you after your alleged victim has petitioned the court.
Most DVIs will bar you from contacting your alleged victim or coming within a certain distance of them, which can be difficult for those who share a home. Florida law regarding surrender of firearms only kicks in once a permanent (as opposed to a temporary) DVI has been issued, but regardless, far too many people try to ignore the order or skirt around it. If you are found to have retained your firearms with a DVI against you, your concealed carry license will be suspended, and you will likely be held in contempt of court, which can involve jail time in extreme situations.
Prohibition On Firearm Use May Be Permanent
While Florida currently has no law requiring people convicted of domestic violence to surrender their firearms, the federal Lautenberg Amendment is still in effect, and its text explicitly states that anyone convicted of a "qualifying" misdemeanor crime of domestic violence is "permanently disqualified" from owning firearms. "Qualifying" means that the defendant must have been a spouse, former spouse, unmarried co-parent, a parent or guardian of a victim or a handful of others – many of which also qualify as "family or household members" under Florida's definition of domestic violence.
This may not seem fair, particularly if a firearm was not used in your alleged incident. However, domestic dispute cases very often hinge on balancing tests, so to speak – a judge or jury must balance the defendant's rights in the legal process with the victim's right to safety and autonomy, particularly in the sentencing phase. The simplest way to avoid losing your right to bear arms is, as one might imagine, to never get to the sentencing phase in your own life.
Contact A West Palm Beach Domestic Violence Attorney
Cases of domestic violence are taken extremely seriously in Florida, and the potential loss of firearm rights underlines that. If you have questions or concerns about a domestic violence case, a West Palm Beach criminal defense attorney from the firm of Perlet & Shiner, P.A. can help to manage them. Call our office today at 561-721-0552 to speak to an attorney.
Source:
flsenate.gov/Laws/Statutes/2021/790.233