Driver Sought In Deadly Hit-And-Run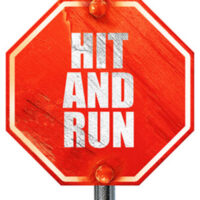 In the early morning hours of August 3, a hit-and-run driver struck and killed Wilson Vasquez Hernandez as he walked near the intersection of Lake Avenue and Hampton Road in West Palm Beach. The driver then fled the scene without stopping to render aid, potentially opening themselves to charges stemming from leaving the scene of an accident and vehicular homicide. If you have been charged with vehicular homicide, it is crucial that you enlist an experienced attorney quickly, as this is a crime that carries serious penalties.
Hit-and-Run Is A Crime
Even if no one is injured or killed, leaving the scene of an accident in Florida is a crime: if someone leaves the scene after causing property damage, they are guilty of a misdemeanor. However, if they leave the scene after causing serious injury or death, they are guilty of a felony, with the degree depending on the nature of the injuries. Leaving the scene of a fatal accident is a first-degree felony, which can result in enormous fines and prison terms in double digits, though at least a 4-year mandatory minimum imprisonment term is required in most cases.
In many cases, a hit-and-run vehicular homicide will be charged as an aggravated offense, meaning that something extra happened in the case to make it particularly serious. Many prosecutors, for example, will try to charge such a crime as aggravated because of the alleged disregard for human life that it takes to leave the scene of a serious accident. However, your case may not be charged as aggravated; it depends on the nature of the accident and of your conduct.
Vehicular Homicide
While most prosecutors will charge the hit-and-run, in some situations you may find yourself faced with vehicular homicide charges instead – for example, if the prosecutor does not believe that the hit-and-run can be established beyond a reasonable doubt. It may seem counterintuitive, since homicide is usually an intentional crime, but vehicular homicide can be charged in Florida if the defendant was allegedly driving in a "reckless manner" that was designed to, or likely to, cause the death of another person.
If it can be shown that you were driving recklessly, you may be charged with this. Keep in mind that with vehicular homicide charges, it does not matter whether or not you knew (or should have known) that the accident caused death or injury. If it does, then you are on the proverbial hook. Oftentimes, people may believe that their lack of intent to injure absolves them, and unfortunately, under Florida, it does not. Having an experienced attorney to help you can ensure your rights are protected.
Call A West Palm Beach Vehicular Homicide Lawyer Today
While as of this writing, the person who struck and killed Mr. Vasquez Hernandez has not been identified, you cannot assume that you will not be found if you commit a similar crime. Contacting a West Palm Beach vehicular manslaughter attorney can protect your rights and give you the day in court you are entitled to. The firm of Perlet, Shiner, Melchiorre & Walsh, P.A. has handled many of these cases and we will work hard on yours. Contact our office today for personalized attention.
Resource:
wptv.com/news/region-c-palm-beach-county/west-palm-beach/driver-sought-in-deadly-hit-and-run-crash-in-west-palm-beach