Ex Parte Vs Final Domestic Violence Injunctions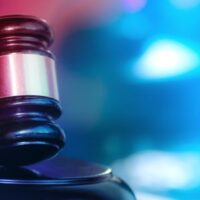 When you have been charged with a crime of domestic violence in Florida, you may find yourself being served with a domestic violence injunction (DVI), which may require you to do things like stay a certain distance away from your alleged victim, or to temporarily lose access to your children. It is not uncommon to feel angry and betrayed, particularly since such an injunction can be granted without any input from you – at least at first. The process for obtaining a DVI can seem convoluted to a person on the receiving end, but it is important to understand and obey these orders.
Ex Parte Injunctions Are For Emergencies
There are two types of domestic violence injunctions in most Florida counties (Palm Beach County included). An ex parte injunction is a temporary injunction, usually expiring in 15 or 30 days, which is only granted to a petitioner if they can show that without it, they will experience "immediate and irreparable injury, loss, or damage." In a domestic violence situation, this invariably means that the petitioner has demonstrated a reasonable fear of being the victim of violence, or has been the victim of violence in the past.
Because of the emergency nature of an ex parte injunction, they are granted without notice to the "adverse" party – that is, the party who will be the object of the injunction. However, sometimes, the temporary nature of ex parte injunctions is not made clear to their recipients – it can be easy to think that your rights are being denied without an opportunity for you to reply, and this is simply not the case.
Final Injunctions Involve Both Parties
A temporary DVI will expire in 15 days, or 30 if the judge 'continues' the order for good cause. During that time, however, a hearing will be scheduled at which both you and the petitioner will be able to present your sides of the story. You have the right to speak – it is generally not a good idea to impugn the petitioner's character or honesty; rather, telling the court your version of events is a better option.
If the judge believes that the petitioner remains in danger of becoming a victim of violence, they will usually make the temporary injunction a 'final' one – but even a final injunction will not last forever. Usually, such an injunction will last 1 year (though some do not have expiration dates) – but both you and the petitioner have the right to seek modification of the injunction, and a judge will decide whether or not to grant the request.
Contact A West Palm Beach Domestic Violence Attorney
If you have a domestic violence injunction issued against you, do not panic – you may have the opportunity to set the record straight. A West Palm Beach criminal attorney from Perlet & Shiner, P.A. can help guide you through the legal process and make sure your rights are protected. Call our office today at 561-721-0552 to speak to an attorney.
Source:
casetext.com/rule/florida-court-rules/florida-rules-of-civil-procedure/rules/rule-1610-injunctions