Fifth Circuit Strikes Down Domestic Violence Gun Ownership Ban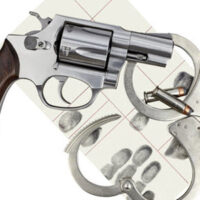 In early February 2023, a three-judge panel of the U.S. Fifth Circuit Court of Appeals ruled that the federal ban on gun ownership for those with domestic violence restraining orders against them was unconstitutional. In U.S. v Rahimi (2023), the panel ruled that despite the defendant's past history of gun violence, to say nothing of his admitted possession of firearms and ammunition in violation of the protective order against him, the law barring his possession of a firearm was unconstitutional. The Justice Department has announced it will appeal.
"Consistent With … Historical Tradition Of Firearm Regulation"
From the inception of the 1996 Lautenberg Amendment, those with domestic violence restraining orders against them have been restricted from owning firearms as a preventative measure, intended to curb future instances of domestic violence. However, gun rights advocates have opposed the measure for roughly as long, arguing that it abrogates the fundamental right of every American to keep and bear arms.
With the U.S. Supreme Court's rightward shift in the past few years, gun rights advocates have been steadily challenging gun control measures they believe to be unconstitutional. In 2022, the court decided N.Y. State Rifle & Pistol Ass'n v Bruen, which unilaterally established a brand-new test for potential gun legislation, requiring it to be "consistent with this nation's historical tradition of firearm regulation" – a vague phrase, difficult to define in the context of weapons never conceptualized by past jurists.
Not Yet Law Of The Land
As of this writing, this decision only applies within the Fifth Circuit – Texas, Alabama, and Louisiana, while Florida resides in the Eleventh Circuit. However, it is imperative for past and potential victims of domestic violence to pay attention to the ultimate disposition of this case, because as of this writing, Florida has no law that expressly forbids the object of a domestic violence restraining order from possession of arms or ammunition. State law has been written to comply with federal law in the past, but if federal law no longer exists, it remains to be seen how Florida will react.
The Department of Justice has signaled its intention to appeal the ruling, but domestic violence advocates are worried as to the ultimate disposition of Rahimi at the highest level. The Supreme Court has signaled its willingness to jettison precedent in favor of originalist talking points, with little awareness of the potential harm to be faced by victims of domestic violence, and Florida's law is unsettled on the issue. Victims may have to face an uncertain reality in which they face the real threat of armed violence for daring to escape an abusive situation.
Contact A West Palm Beach Domestic Violence Attorney
If you have been the victim of domestic violence in Florida, it is crucial that you be protected and your safety assured as much as possible. If you have questions or concerns about obtaining a domestic violence injunction against an alleged abuser, calling a West Palm Beach criminal attorney from the firm of Perlet & Shiner, P.A. Can get the process started. Contact our office at 561-721-0552 to speak to an attorney today.
Source:
assets.nationbuilder.com/firearmspolicyfoundation/pages/3970/attachments/original/1675361904/United_States_v_Rahimi_Opinion.pdf