Gunfire On I-95 Leads To Injuries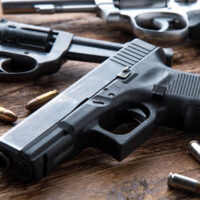 In the early morning of July 28, a sedan driver and his passenger were headed north on I-95 when their vehicle was struck by gunfire from another passing car. Both people in the vehicle sustained serious but non-life-threatening injuries from multiple bullet wounds. While as of this writing, the shooter or shooters have not been located, law enforcement have enough evidence to charge them with multiple weapons charges. Florida's weapons laws are quite strict, and if you are charged with an offense under this umbrella, it is crucial to seek out a knowledgeable weapons attorney as soon as possible.
Weapons Is An "Umbrella" Charge
There is not just one 'weapons' charge in Florida. Anything from carrying a firearm without a permit to firing a weapon into a crowd may fall under the umbrella of weapons charges, and each charge carries a different severity and punishment if you are convicted. Understanding exactly what you are charged with is crucial going forward – for example, violent gun crimes are handled very differently than nonviolent crimes. The main issue is the level of danger to the public.
There are two specifications for Florida weapons charges. Crimes are fairly self-explanatory – if you are convicted of a weapons crime, you will be sentenced based on the specific charge – for example, if you are convicted of shooting into an occupied motor vehicle, as the driver on I-95 did, you will be sentenced for a second-degree felony. Enhancements, by comparison, increase the already-existing penalty for a crime – for example, an assault charge might be enhanced into aggravated assault if a firearm is used to commit the offense. Enhanced offenses carry stiffer penalties than general crimes.
If You Are Charged
If you are charged with weapons crimes, the best way to mount a good defense is to be aware of your rights and of the possible defenses you might have to any charge. For example, if you are charged with unlawful possession of a weapon, but you can demonstrate that you were not aware of the weapon's presence in your home or vehicle, you may be able to eliminate part of the criteria that have to be shown before a conviction can be obtained.
It is worth noting that Florida has had a bit of a shift in its priorities with regard to gun crimes. In 2016, the state's harsh "10-20-Life" law was repealed, and as of this writing, both sentences and enhancements for gun crimes are more in line with the standard recommendations for the specific types of felony or misdemeanor, rather than the hard 10-20 year or life terms. Each case is different, and having an experienced attorney on your side can make a big difference as to how to handle this type of charge.
Contact A West Palm Beach Weapons Lawyer Today
While as of this writing, the shooter on I-95 remains at large, but if they are identified, they will be charged with serious crimes. If you have been charged with illegal weapons offenses, you need a West Palm Beach criminal attorney who understands the nature of these complex cases. The firm of Perlet, Shiner, Melchiorre & Walsh, P.A. has handled many of these matters and is happy to work hard on yours. Contact our office today for a free consultation.
Resource:
sun-sentinel.com/news/crime/fl-ne-highway-shooting-injuries-20190728-o2snci3ikve6dddti45iqpatqu-story.html
https://www.palmbeachdefense.com/can-drug-dealers-be-charged-with-murder/