Marc Shiner's Switch from Prosecution to Defense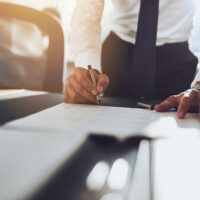 A recent New York Times article tells the story of how Attorney Marc Shiner made the switch from a South Florida prosecutor to a criminal defense lawyer.
Marc always considered himself a man just doing his job. That's what he thought when he won a case against a young boy who was accused of murdering his teacher when he was 13 years old – a boy he described as a "killer" with a demeanor that sent chills up his spine. But what changed between that time and now, as he is preparing to defend a 16-year-old girl who has been accused of murdering her newborn child?
As a prosecutor, Mr. Shiner felt that he had to keep his personal views about justice out of the courtroom – specifically, that children should not be tried as adults. Privately, he had a very difficult time prosecuting the murder case, but although he didn't feel he compromised his principles to do so, he felt a certain unease knowing that the better he did his job, the more time the 13-year-old would lose of his life in prison. "It was difficult at first just on a human level, seeing a child in a courtroom," he said. "It just felt like an unfair fight. It sort of seemed like the N.B.A. against a high school team. It didn't feel right in every single level of my being; it just felt wrong."
While some have accused him of having an opportunistic change of heart, his switch to criminal defense was a way for him to overcome his personal struggles as a prosecutor, which he felt he could never voice. "I felt it wasn't appropriate to do that because I took an oath to uphold the law," he shared.
As a defense attorney, he feels that his job has largely remained the same, except that now his focus is on protecting an individual's rights. His current case, involving a young Guatemalan teen who was living in South Florida illegally, could result in a mandatory life prison sentence without the possibility of parole if she is convicted. She is being tried as an adult.
Shiner argues that in her home country, the girl had no access to health care and little education. She gave birth to a 2.7-pound baby alone in her apartment, delivering it by pulling on the umbilical cord until it broke. She was found hours later passed out and bleeding on the floor by a friend. She admitted that the child was breathing for 10 minutes after the delivery and that she had placed it in a plastic bag and into the trash. The prosecution is seeking first-degree murder charges based on allegations that the child died by asphyxiation.
Mr. Shiner believes that the entire police report was unreliable because the girl was interviewed through a Spanish interpreter but speaks an unwritten Mayan language rarely spoken outside of Guatemala. He also stated that the girl was in no position to waive her Miranda rights because she does not understand the American legal system.
Mr. Shiner will be going up against his former colleagues in defending this case. While he feels that his clients ultimately benefit from having an ex-prosecutor on their side who understands both sides of a criminal case, he also feels as though it invites his colleagues to try extra hard to prosecute his clients.
To get in touch with Mr. Shiner or another attorney at Perlet & Shiner, P.A., please call 561-721-0552.