Woman Claiming To Be ICE Agent Robs Hispanic Man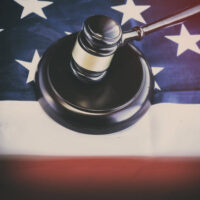 On October 12, a blonde woman wearing a black dress and badge intimidated and robbed a Hispanic man in West Palm Beach, taking his cell phone and roughly $3,500 in cash. She also threatened him with deportation, claiming to work for Immigration & Customs Enforcement (ICE), though as of this writing no proof exists of her contention. Currently, police are uncertain whether this is an isolated incident, fearing that more immigrants have been targeted but are reluctant to come forward. This is a snapshot of the untenable position that many immigrants find themselves in, though if you have committed immigration violations, you are still entitled to certain rights in the United States.
Immigrants Have The Right To Seek Justice
Immigrants, even the undocumented, have rights in the United States, including the right to due process, education, and protection against unreasonable searches and seizures. The U.S. Constitution does not use the word 'citizen' very often – most rights enumerated in the document itself are granted to 'people' or 'persons,' which explicitly does not exclude immigrants (yes, even the undocumented). While immigrants have rights in the U.S., there are too many people who believe they do not (and in some cases, they do have fewer resources than U.S. citizens).
This perception can sometimes make immigrants more likely to be victims of crime, because they are perceived to have very little ability to fight back or seek justice. Statistics report that immigrants both documented and undocumented have serious concerns about contacting police if they are the victim of a crime – the fears of the burglary squad or the Special Victims Unit contacting ICE are simply too great. Yet regardless of whether or not the man in West Palm Beach is undocumented or has committed immigration offenses, he has the right to seek justice and restitution after being robbed.
You May Have Options
If you are an immigrant who has committed potentially deportable offenses, but you have also been the victim of a crime, you need to enlist an attorney for your case who understands the ins and outs of this type of law. You may be eligible to apply for a T or U visa, which are designed for immigrant victims of crime. A T visa is for those who have been the victims of human trafficking, and who can assist with the investigation, but you must be able to demonstrate that you would suffer "extreme hardship involving unusual and severe harm" if you were removed from the U.S. – an extremely difficult standard to meet.
The criteria for a U visa are somewhat less restrictive. In order to qualify for a U visa, an immigrant must be (1) a victim of "qualifying criminal activity" (not every crime qualifies); (2) possess "credible and reliable" information about the crime; and (3) be helpful to the investigation of the crime committed against you. Not everyone will be able to meet these restrictions, but it is definitely an avenue to pursue if possible, so that you are able to remain in the country while police try to find the person who harmed you.
Call A West Palm Beach Immigration Defense Lawyer
Immigrants have the same rights as U.S. citizens when it comes to getting justice for crimes committed against them, but the added wrinkle of deportable offenses means that an attorney specialized in this area of law is crucial to have on your side. The West Palm Beach immigration offense attorneys at the firm of Perlet, Shiner, Melchiorre & Walsh, P.A. will work hard to ensure that you have the best chance at receiving what you are due. Call us today to speak to an attorney.
Resources:
wptv.com/news/region-c-palm-beach-county/west-palm-beach/hispanic-man-robbed-by-woman-claiming-to-be-ice-agent-west-palm-beach-police-say
uscis.gov/sites/default/files/USCIS/Humanitarian/Battered%20Spouse%2C%20Children%20%26%20Parents/Immigration%20Options%20for%20Victims%20of%20Crimes.pdf