"Cry For Help" Bank Robber Reaches Plea Deal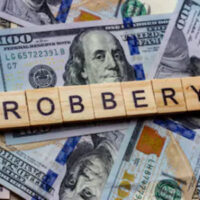 In November 2019, 74-year old Sandy Hawkins robbed a Wells Fargo bank branch near Boca Raton, taking just $1,100 after declining more from the teller, saying she'd "given him too much." He was charged with a second-degree felony, characterizing his crime as a "cry for help," but on Friday, February 14, the court in West Palm Beach agreed to sentence him to pretrial diversion, placing him at The Lord's Place, a service organization for homeless people. His case was seen as unusual, but if you are charged with robbery, it is highly unlikely that you will receive a similar sentence without several mitigating factors.
Serious Potential Sentences
Robbery is a theft crime, defined under Florida law as taking another person's property and using "force, violence, assault, or putting in fear." It is usually charged as a first-degree felony if the crime involves the use of a weapon, and a second-degree felony if no weapon was present (Hawkins had no weapon at the time of his crime). It can sometimes be difficult to prove robbery (as opposed to another type of theft crime) because it has to be proven that a reasonable person would have been put in fear of great bodily harm.
The penalties for robbery are severe, because of the high potential for both physical and psychological harm to the victim, in addition to property damage. Second-degree robbery, which is what Mr. Hawkins was charged with, carries a potential maximum sentence of up to 15 years in prison, plus 15 years' probation and a fine of up to $10,000. First-degree robbery carries double the time for both prison and probation.
Mitigation May Not Work
Hawkins had no prior criminal record, and had suffered a series of personal issues, including the death of his wife, mother, and two siblings, and having the car he used to get to work repossessed. While he technically was not eligible for pretrial diversion because of the degree of the charge (in Florida, felony pretrial diversion does exist, but the crime in question must be a felony of the third degree, while Hawkins' charge was in the second degree), prosecutors allowed the agreement because of Hawkins' circumstances.
This is highly unlikely to happen in your case, though prosecutors are able to recommend sentences lighter than the guidelines. You may be able to offer some defenses – for example, duress or intoxication – or mitigating factors, but there is no requirement that they be accepted either by the prosecutor or by a jury. You need an attorney who is well versed in these types of cases and knows how best to approach this type of negotiation.
Contact A West Palm Beach Robbery Attorney
While Mr. Hawkins received the help he was looking for, most robbery defendants will face more serious consequences. A West Palm Beach robbery attorney from the firm of Perlet, Shiner, Melchiorre & Walsh, P.A. can help you determine your best path forward, and protect your rights to make sure that you get your fair day in court. Contact our offices today to speak to an attorney.
Resources:
nwfdailynews.com/news/20191122/florida-robber-told-bank-teller-you-gave-me-too-much
apalachtimes.com/news/20200214/video-boca-bank-robber-74-who-told-teller-he-gave-him-too-much-calls-crime-cry-for-help