Florida White Collar Crime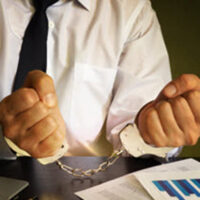 The term white collar crime was allegedly coined in the late 1930s to apply to organized crime activity, but in this day and age, it is used to cover the gamut of crimes committed by business and/or government professionals. White collar crimes are almost always financial in nature, and are usually nonviolent. There are many different offenses that come under Florida's white collar crime law, and it is important to understand what this might entail if you are ever arrested and charged.
A 'White Collar Crime Haven'
White collar crimes are defined in Florida very narrowly. The relevant statute states that a white collar crime has been committed when a person commits a felony offense with the intent to commit fraud or deprive a person of their property, or is involved in a conspiracy to commit such crimes. If one commits "fraud or deceit" upon a person or gets involved in a conspiracy to do the same, it may also be defined as a white collar crime, depending on the specific facts of the situation.
Florida has been described as a 'mecca' for white collar crime, for several different reasons. Statistics from the Transactional Records Access Clearinghouse (TRAC) at Syracuse University show that the Southern District of Florida has the second-most white collar crime convictions, per capita, in the United States. It is not uncommon for businesspeople and other professionals to retire in Florida, or to move there close to retirement, and either winding up misusing funds or being the victim of someone else doing the same. Elderly people are also some of the most common victims of this type of crime, and Florida's population over the age of 50 is among the highest in the country.
Increased Sentencing Penalties In Florida
As a direct result of the high incidence of white collar crime in the state, the Florida legislature enacted the White Collar Crime Victim Protection Act. The WCCVPA adds serious consequences onto what might otherwise be a relatively light sentence, especially if it is not your first offense. If you commit two or more white collar crimes that are related, and your ill-gotten gains total more than $50,000, you can be charged with a first degree felony with extended penalties, which more than doubles the fine up to $30,000, plus the possibility of up to 30 years in jail.
You may also be charged with an "aggravated" white collar crime if you harm ten or more elderly people, twenty people of any age, or the state of Florida (in other words, if you commit a crime designed to defraud the state). An aggravated white collar crime is sentenced at severity level nine, which is the same sentencing level as manslaughter, drug trafficking, and other violent crimes. Fraud on such a scale is taken extremely seriously in Florida, and if you have been charged, it is crucial not to take it lightly.
Contact A West Palm Beach White Collar Crime Lawyer
White collar crime is considered very serious, but it does not mean that you are not entitled to a good defense if you are charged with such an offense. The West Palm Beach white collar crime attorneys at the firm of Perlet, Shiner, Melchiorre & Walsh, P.A. have years of experience with these cases, and we are ready to put our knowledge to work for you. Contact us today at 561-721-0552 to speak to an attorney.
Resource:
trac.syr.edu/tracreports/bulletins/white_collar_crime/monthlymar17/gui/