Ice Cream Shop Visit Leads to DUI for Florida Man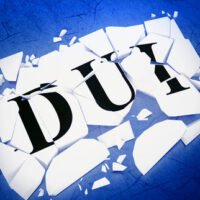 DUI stops tend to occur when someone is pulled over while driving. Rarely do they result from visits to the ice cream shop, but that was what happened recently in Florida. Instead of a sweet treat, a man got a ride in a police car.
The incident happened on October 8 at Royal Scoop, an ice cream shop in Bonita Springs. A 23-year-old man pulled into the parking lot, where witnesses noticed him driving erratically. They noticed that his vehicle, a Nissan Maxima, had substantial damage, including wheel and tire damage.
Employees at Royal Scoop called police over the vehicle damage. In addition, the man entered the shop with no shirt on and acted intoxicated. The man fled on foot when police arrived. Police later found him in the woods, sitting down and eating his ice cream.
Officers ordered the man to complete field sobriety tests, but he refused, screaming "Blah, blah blah!" Given that the man exhibited the signs of intoxication—glassy eyes, odor of alcohol on the breath and slurred speech—police arrested him for DUI and placed him in the police car.
The incident did not stop there. The man became uncooperative. He demanded Xanax, claiming that if he did not have it, he would have a seizure. Paramedics arrived and they found the man rolling over. A mask was placed on his face to restrain him, but it did not work. He was able to remove the mask, even while handcuffed.
The man then bit a firefighter on the hand. The firefighter claims the man also spit on him and plans to press charges.
While still on the way to jail, the man continued to move around and was using profane language. Police had to pull over several times and warn the man to stop. Police later found green/yellow wads of bodily fluid in the back of the car.
The man has a court date at the end of October. He faces multiple criminal charges, including DUI, battery and fraud. When he was arrested, he gave his brother's name to police, which is why he is facing fraud charges.
DUI Penalties
The penalties for a DUI can be serious, especially in cases like this where the suspect is uncooperative. DUI penalties include jail time, fines, probation, license suspension and community service. A person may also be ordered to take substance abuse classes and have an ignition interlock device installed in their vehicle. These penalties may be enhanced with subsequent DUI offenses.
Contact a West Palm Beach Criminal Defense Attorney
While DUIs are common, they are not minor charges. They are typically misdemeanors, but come with significant penalties and consequences, including fines, jail time, job loss, license suspension and more.
If you have been charged with a DUI, time is of the essence. Protect your license and record with legal help from the criminal defense lawyers at Perlet & Shiner, P.A. We will preserve your legal rights and help you achieve a favorable outcome. Contact us today to schedule a consultation. Call 561-721-0552 or fill out the online form.
Resource:
miamiherald.com/news/state/florida/article219733565.html