Rapper Kodak Black's Bond Revoked Over Weapons Charges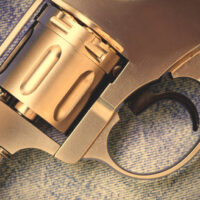 The rapper Kodak Black, a native of Pompano Beach, was arrested on weapons charges on May 11 after falsifying information on federal forms while trying to buy three guns – two handguns and one automatic weapon. He was granted bail, but on May 29, federal prosecutors successfully appealed to revoke it. While most weapons charges do not come with such fanfare and press speculation, they are generally looked at very seriously by prosecutors, and if you are charged with weapons violations, you should be prepared for potentially serious consequences.
Many Different "Weapons Charges"
The first thing that anyone charged with weapons violations in Florida should be aware of is that that term is a wide umbrella, under which a lot of different crimes are counted. Black faces charges involving falsifying registration information, but, for example, illegally carrying a concealed weapon would also be a "weapons charge." Other examples include:
Failure to register a weapon;
Illegal carrying of a weapon (lacking a concealed weapon permit, or carrying in a location where firearms are prohibited, like a school);
Illegal sale of a firearm;
Brandishing or "improper exhibition" of a firearm (waving it around in public in a potentially threatening manner); and
Several other crimes related to weapons that either involve dishonesty, violence, or both.
You will also be charged with weapons violations if you possess a firearm or other weapon when you are not legally permitted to do so – for example, felons are permanently barred from owning firearms in Florida. Weapons charges do not only involve firearms, as well – Florida's weapons law explicitly regulates hand-held weapons like knives, as well as weapons of mass destruction such as bombs.
Sentences Are Severe
While some weapons charges are misdemeanors, felony weapons charges carry heavy sentences. To help combat the spread of violent crime, especially gun crime, Florida's legislature enacted what is called the 10/20/Life Law; it sets specific penalties that must be imposed (except in rare situations) if a firearm is used in the commission of a crime, or if someone is injured or killed during the commission of a crime, with or without intent. The law has been criticized as being overbroad, but currently it is in force in Florida.
In Black's case, the maximum he will face is 8 years in prison. While he has been charged with numerous other offenses in recent years, such as drug possession, sexual assault and previous weapons crimes, he has never been convicted. Also, Black's weapons crime is rooted in dishonesty, not violence – he would not be subject to increased sentencing if convicted, because nothing in his previous criminal record warrants it.
Contact A West Palm Beach Weapons Charges Lawyer
While the fate of Kodak Black remains to be seen, your weapons charges may turn out very differently, especially if you try to face them alone. If you have been charged with weapons violations, contacting a West Palm Beach weapons charges attorney well versed in this type of situation is a good first step toward hopefully smoothing out the process. The firm of Perlet, Shiner, Melchiorre & Walsh, P.A. has handled these cases for many years, and we are happy to try and handle yours. Call us today to speak to an attorney.
Resources:
leg.state.fl.us/statutes/index.cfm?mode=View%20Statutes&SubMenu=1&App_mode=Display_Statute&Search_String=775.087&URL=0700-0799/0775/Sections/0775.087.html
leg.state.fl.us/statutes/index.cfm?App_mode=Display_Statute&Search_String=&URL=0700-0799/0790/Sections/0790.25.html
miami.cbslocal.com/2019/05/29/kodak-black-bail-case/