Stranded Driver On I-95 Shoots & Kills Trooper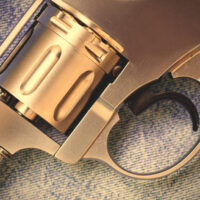 On the afternoon of February 5, Trooper Joseph Bullock stopped on I-95 to help a driver whose car had stalled, leaving him stranded. The driver, Franklin Reed III, "became irate" at having to pay for a tow and pulled a gun. Reports are confused as to how the trooper became involved, but after six shots, Trooper Bullock was on the ground with fatal wounds. After further altercation, Reed was shot dead by Officer Jemel Headings, a passing policeman from Riviera Beach, but had he survived, he would be facing serious criminal charges made even more serious by the involvement of law enforcement officers.
Weapons Charges
Had Mr. Reed survived his encounter with Trooper Bullock and Officer Headings, he would have almost certainly been charged with weapons offenses. Florida gun crimes are wide-ranging, and so are the laws regulating them. Some of the most common weapons charges under Florida law include illegally carrying a concealed weapon and firing into a dwelling or other building, though there are many others. With the recent surge of mass shootings across the country, gun crimes are among the most seriously prosecuted in Florida, so as to try and exercise some prevention.
It is also important to be aware of what are called weapons enhancements. In Florida, the presence of a weapon during the commission of a crime can add years to a sentence or require the imposition of a mandatory minimum sentence for certain offenses (for example, robbery, aggravated assault, and other violent crimes). Weapons are designed, when used in crimes, to cause fear and raise the proverbial stakes – thus, the legal system raises the penalties for the person caught and charged.
Homicide Of A Law Enforcement Officer
The major crime that Mr. Reed would have been charged with had he survived is, of course, the homicide of Trooper Bullock. Homicide, as one might imagine, is the unlawful killing of a human being, though the level of malice required depends on the degree of the offense. First degree homicide requires a showing of premeditation, while second degree requires an act "imminently dangerous" to another person, showing a "depraved mind regardless of human life." Manslaughter is also a potential charge if no malice or 'depraved heart' is present. First degree murder is a capital crime in Florida.
When the victim is a law enforcement officer, however, the potential sentence is even higher in most cases. Florida law holds that if the death penalty is not imposed in the first-degree murder of a law enforcement officer, the only other legal sentence is life without the possibility of parole. In cases of second-degree murder, or attempted first-degree murder, life may also be an appropriate sentence. It is not disputed that Mr. Lee killed Trooper Bullock, though the ultimate reason remains a mystery.
Call A West Palm Beach Violent Crimes Attorney
Violent crimes in Florida can sometimes happen in the blink of an eye. If you or a loved one has been charged with one, you need an experienced West Palm Beach criminal attorney immediately, to ensure that your rights are protected during what can be a long, drawn-out court process. The firm of Perlet, Shiner, Melchiorre & Walsh, P.A. has experience in these very serious cases, and will work hard on yours. Contact us today to schedule a consultation.
Resources:
leg.state.fl.us/Statutes/index.cfm?App_mode=Display_Statute&URL=0700-0799/0782/Sections/0782.065.html
miamiherald.com/news/local/crime/article240043443.html
https://www.palmbeachdefense.com/can-i-get-my-property-back-after-forfeiture/