What Is Florida Drug Court?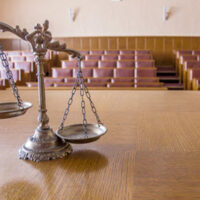 Drug crimes are harshly prosecuted in Florida, because of the state's past as a battleground for cartels. Mandatory minimum sentences are still in force for some of those offenses, which have been shown to be ineffective in reducing drug crimes and are often punitive, rather than reasonable. However, Florida has also given birth to one of the most successful methods of intervention for people with substance abuse issues, which is known as drug court. If you have been arrested and charged with a drug offense, you may qualify to go through drug court instead of having to face a jail sentence, depending on the facts of your situation.
Origins and Uses
The first drug court in the United States came into being in Miami Dade County, in 1989. At the time, crack cocaine use had been steadily rising in the city and law enforcement was becoming overwhelmed. Drug court was developed as an alternative for nonviolent, usually first-time offenders, and has proven effective for a significant number of people because it seeks to combine substance abuse treatment with oversight and probation. Unlike other models of management for drug defendants, drug court recognizes that many need treatment as well as punishment.
In West Palm Beach, there are drug court programs available not only for individual adult defendants, but also for families, where parents may suffer from substance abuse issues, and juveniles, who often have unique issues that a one-size-fits-all adult program may not solve. In addition, emphasis is placed on the fact that drug court programs are voluntary – after all, a state's attorney may simply prefer to charge a defendant, and will almost certainly do so if the defendant does not complete the program.
What About My Case?
If your offense was minor – for example, simple drug possession, or if you are caught trying to purchase drugs – you may find yourself in a position to attend drug court instead of going through a trial. Palm Beach County is one of the few counties in Florida where certain people with multiple convictions may attend, but in general, one must also have no prior criminal record in order to be considered. The state's attorney in your case must agree to send you to drug court, as well.
Regardless of which county you are located in, drug courts all tend to follow the same overarching model, intending to provide treatment to its attendees while also teaching them the skills to help them avoid reoffending. Too many people persist in the belief that mere punishment will stop drug offenses, when the statistics over the last decade simply do not bear that out. However, if you fail to comply with the terms of the program – if you do not attend lectures, for example, or if you are arrested against for drug crimes – you may be expelled, and your case put on the active trial docket once more.
Contact A West Palm Beach Drug Crimes Attorney
Drug court was created in order to both ease the burden on criminal court dockets, and to help people who need extra assistance to avoid further drug crimes. If you have been arrested on drug charges, the West Palm Beach drug crimes attorneys from the firm of Perlet, Shiner, Melchiorre & Walsh, P.A. can sit down with you and try to help answer any questions you may have. Drug court can be the difference between getting your life together and hard time. Contact our offices today to speak to an attorney.
Resource:
jud11.flcourts.org/Adult-Drug-Court