Clarifying Florida's Definition Of Domestic Violence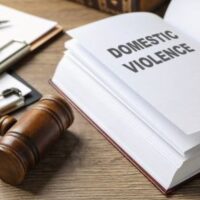 The offense of domestic violence is defined in a different way in practically every U.S. state. Florida's relevant statute establishes several facts about these types of crimes, but perhaps the most important is that in Florida, no singular crime called 'domestic violence' exists in law. The method by which someone is charged with a crime of domestic violence will vary slightly from case to case, which can be confusing for someone facing these charges.
Unpacking Terms
The statute defines domestic violence with a long list of crimes as examples, as well as "any criminal offense resulting in physical injury or death" to a "family or household member" that was committed by another family or household member. This provides quite a lot to unpack, but the first thing to notice is that all of the offenses specified in the statute count as domestic violence. The underlying crime, such as assault or kidnapping, is charged by a Florida state's attorney, and if the defendant is convicted, then the presence of domestic violence comes into play.
The statute also explicitly establishes that "family or household member" does not just mean a spouse and children. Rather, it refers to anyone who is a member of one of four different groups. If the victim of a criminal offense is:
A spouse or ex-spouse;
A relation by blood or marriage;
A person with whom the perpetrator has resided or is residing together as a family; and/or
A co-parent with the perpetrator;
they will qualify as a 'family or household member' under the statute.
Charges & Convictions
One thing to keep in mind is that in Florida, domestic violence crimes are seen as offenses not against an individual person, but offenses against society. Because of this, sentence enhancements for domestic violence are used with regularity, particularly if the offense in question was particularly violent. For example, a person convicted of battery will likely serve no more than one year in jail, as it is a first-degree misdemeanor in most cases – but a person convicted of domestic violence battery will often face felony charges.
If you have been involved in an altercation with someone and caused them physical injury or death, do not think that their not being a 'family or household member' will enable you to avoid charges. Rather, you may be prosecuted for simple assault, without the potential domestic violence sentencing enhancement – but even simple assault can carry jail time, fines, and costs that can pose problems for anyone down the road.
Contact A West Palm Beach Domestic Violence Attorney
Crimes of domestic violence are taken very seriously in Florida, and if you have been charged with this kind of offense, you need to take it seriously as well. A West Palm Beach criminal attorney from the firm of Perlet & Shiner, P.A. can help guide you through the legal process. Call our office today to speak to an attorney.
Source:
leg.state.fl.us/Statutes/index.cfm?App_mode=Display_Statute&Search_String=&URL=0700-0799/0741/Sections/0741.28.html