Influencer Faces Second-Degree Murder Charges In Domestic Violence Incident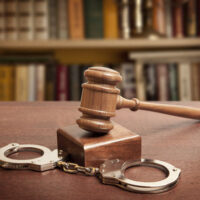 In August 2022, social media model and influencer Courtney Clenney was arrested in Hawaii and extradited back to Florida to face charges of second-degree murder with a deadly weapon. Her boyfriend, Christian Obumseli, was killed in April after an incident in which Clenney allegedly stabbed him with a long knife. While in general, women are far more likely to be victims of intimate partner violence than men, women can and do perpetrate domestic violence offenses, and will be sentenced in the same manner as male perpetrators would be.
Male Victims Are More Common Than One Might Think
According to the National Coalition Against Domestic Violence (NCADV), as many as 1 in 4 men have been physically abused by a partner, while about 5 percent of murder victims killed by an "intimate" are male. Some of these incidents occur between two men, but women are predominantly the perpetrators in several types of unwanted physical and sexual contact – statistics show that about half of those who stalk intimate partners are female, while physical assault perpetrators are predominantly female as well.
Clenney claimed that she allegedly stabbed Obumseli in self-defense, and while statistics do show that women tend to engage in violence more often in self-defense than they do affirmatively, forensics appears to show that the angle of Obumseli's knife wound rules out the possibility of self-defense. That said, state's attorneys chose to charge her with second-degree murder, which does not require a showing of premeditation.
The Most Serious Charge
If you have been charged in a domestic violence-related homicide, understand that you are facing extremely serious charges that may result in a very long prison sentence. While Clenney has been charged with second-degree murder with a deadly weapon, she still faces the possibility of at least 25 years in prison without the possibility of parole under the relevant statute. If the state's attorney can establish that your actions were premeditated in your case, you may face a charge of first-degree or even capital murder, which can carry a sentence of capital punishment.
In her case, Clenney appears to be arguing that she acted in self-defense, and it may be possible for you to do the same. Other recognized defenses can include what is known as "excusable" homicide – that is, a homicide committed by "accident and misfortune" when someone is performing "any lawful act," or committed in the heat of passion, without any actual intent to kill. In some cases, pleading to a lesser charge may be your best option. Either way, consulting an experienced domestic violence attorney is absolutely crucial.
Contact A West Palm Beach Domestic Violence Attorney
While Clenney's case is still pending as of this writing, know that the taking of a life is a taboo upon which few juries will ever look favorably. If you have been charged in a domestic violence-related homicide, it is crucial to contact a West Palm Beach criminal attorney as soon as possible. The firm of Perlet, Shiner, Melchiorre & Walsh, P.A. is ready and willing to try and ensure your rights are protected. Contact our office today at 561-721-0552 to speak to an attorney.
Source:
whas11.com/article/entertainment/entertainment-tonight/instagram-model-courtney-clenney-charged-with-murdering-her-boyfriend-in-florida-apartment/603-1d385503-e8c6-4456-afbb-b705f1d12ab4