Links Between Substance Abuse & Drug Crime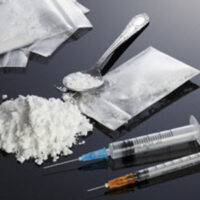 While drug crime is an endemic problem in Florida, not all drug crimes are created equal. The law requires punishment for those who commit crimes, but sometimes, crimes happen for reasons other than malicious intent. When it comes to drug crimes, some offenders are driven by addiction or mental health issues, and while this may not get a person off the proverbial hook, Florida law does allow prosecutors to consider it as a possible mitigating factor in an individual person's case.
Drugs May Breed Desperation
The National Institute on Drug Abuse (NIDA) has documented the links between addiction and drug crime, of which there are several. The most straightforward relationship, as one might imagine, is a person who commits possession or engages in trafficking to further a habit. NIDA has found that generally, addicted people are more likely to engage in illegal activity, especially if they feel there is no other alternative that will allow them to get more drugs. That said, not every addict commits a drug crime directly; they may, for example, rob a store in order to get money to pay a dealer.
Statistics from the Department of Justice estimate that around 15 percent of state prisoners admitted to committing their crimes in order to get money for drugs. However, many admitted that even if they had never committed any other crime, they believed they might have in the future because their lifestyle was encouraging illegal connections and behavior. In other words, the precarious way that many drug addicts have to live increases their likelihood of encountering illegal behavior, and many simply fall into the same lifestyle.
Help In Florida
While Florida State's Attorneys do strongly prosecute drug offenders, the law does allow for some compassion, especially if this is your first offense. Florida was one of the first states to implement drug courts, starting in Miami in 1989, and if a defendant can earn admission to the program, it is a good way to avoid jail while hopefully getting help for substance abuse issues at the same time – generally, drug addicts will almost certainly reoffend if only punishment is offered to them. There are specific criteria that you must meet in order to qualify, however – among others, you must not have any felony convictions, you must admit that you have a drug problem, and you cannot have participated in the program before.
While there are no guarantees, there is a strong likelihood that your charges will be dropped or nolle prossed (that is, placed on the inactive docket) if you successfully complete the program. If you make a mistake – for example, testing positive for drugs or missing too many meetings – you may be given a second chance, but it is possible to be removed from the program. Having an attorney you can trust can be a big help in getting through the process.
Contact A West Palm Beach Drug Crimes Attorney
While everyone needs to be responsible for the offenses they commit, it is not in the best interests of the state or the individual if mitigating factors are ignored. If you need a West Palm Beach drug crimes attorney, the firm of Perlet, Shiner, Melchiorre & Walsh, P.A. has years of experience and can offer knowledgeable and compassionate representation. Help is available – call our offices today to speak to an attorney.
Resource:
bjs.gov/content/dcf/duc.cfm
https://www.palmbeachdefense.com/federal-drug-crimes-in-florida/