Palm Beach County Man Uses COVID-19 As Domestic Violence Defense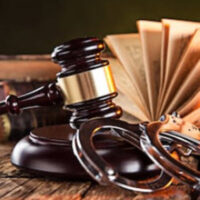 August 2020 saw a unique first in Florida law, when a 45-year old Palm Beach County man pled a defense to domestic violence that blamed his actions on the novel coronavirus. He was arrested after striking his girlfriend multiple times with a leather belt, saying he needed to "remove the demon within her." The man was committed by the Palm Beach County Sheriff's Office (PBSO) under the Baker Act, and as of this writing his case has not been addressed, so the efficacy of using COVID-19 as a defense cannot yet be addressed.
Never Before Tried
The Palm Beach County man stated in an interview that he sought testing for COVID-19 in mid-July 2020, but the results did not come back for over two weeks. Over time, his condition worsened, and he developed a leg infection, for which he checked himself into Palms West Hospital in Loxahatchee. There, he tested positive for COVID-19, but was still permitted to check himself out afterward, stating he felt neglected by the staff. Since then, his family has described him as "not himself" and has requested psychiatric evaluation for him, even as his domestic violence trial moves forward.
As to the origin of the man's alleged mental illness, his attorney has blamed COVID-19, citing early reports that even mild cases of the novel coronavirus can lead to brain damage and hallucinations. Between the man's comments to his girlfriend and the choice to commit him under the Baker Act immediately, as opposed to removing him to the Palm Beach County Jail, the attorney argues that his client should not be held responsible for the wounds inflicted on his girlfriend.
Several Possible Affirmative Defenses
If you are in the position of having committed domestic violence, being able to assert what is called an affirmative defense can help establish your innocence. Some of the most common affirmative defenses include self-defense, consent (in certain situations), and general lack of proof. This may also include the insanity defense (though it is almost never effective, unlike in film and television) and its lesser component, referred to as diminished capacity.  Florida does recognize diminished capacity as a total defense in terms of completely erasing potential culpability, but it can be used to plead for a lesser sentence.
It remains to be seen what the outcome of the Palm Beach man's case will be, but unless you are able to show that you were unable to understand your actions due to mental defect, and unable to distinguish right from wrong, you stand a poor chance of using this defense in your own case. If you have not been suffering from complications related to COVID-19, your best option in a domestic violence case is to enlist an experienced attorney who can ensure that you get your fair day in court.
Call A West Palm Beach Domestic Violence Attorney
It is impossible to determine whether COVID-19-related complications will be accepted as a potential defense in Florida domestic violence cases, but whether you have COVID-19 or not, you need an experienced West Palm Beach criminal attorney on your side. The firm of Perlet, Shiner, Melchiorre & Walsh, P.A. will work hard to make sure you get your fair day in court. Contact our offices today to speak to an attorney.
Resource:
msn.com/en-us/news/crime/florida-man-uses-covid-19-as-defense-in-domestic-violence-case/ar-BB18ewQi
https://www.palmbeachdefense.com/parscales-wife-walks-back-domestic-violence-allegations/